We decided to post some information about emerging aircraft at the airport Goleniów.
Below is a list of aircraft that can often be found at the airport:
Airbus A320 is a compact medium-haul passenger aircraft manufactured by Airbus. It is the first passenger plane equipped with a digital flight control system of the fly-by-wire.
This aircraft was first flown on 22 February 1987, and a year later on March 28, 1988 held its first commercial flight in the colors of Air France.
The Airbus A320 aircraft is the base model A318, A319 and A321. Currently, more than 3,000 pieces produced A320. This aircraft is a direct response to the US European manufacturer Boeing 737.
Airbus A318 / A319 / A321 are manufactured in the German factory situated in a Hamburg, while the plants in the French Toulouse created the prototype of the Airbus A320 family.
Airbus A-320 Video:
ATR 72 turboprop passenger plane is produced by the Italian-French airline ATR (incl .: Aerei da Trasporto Regionale, French Avions de Transport .: Régional), used on regional routes by airlines including EuroLOT, CSA Czech Airlines, Binter Canarias, Alitalia.
Two versions - ATR 72-200 and ATR 72-500 different propulsion units and electro-avionics equipment. The number of seats on the board depends on the configuration of the aircraft. The ATR 72 is a metal, high-wing passenger turboprop aircraft with two engines and a low-level chassis.
In Poland, the only company EuroLOT LOT group uses 8 ATR 72 on domestic and foreign, short-haul, low intensity.
The ATR 72-202:
Length: 27.16 m

Wingspan: 27.06 m

Max cruise speed: 515 km / h

Range with max load capacity: 700 km

Ceiling: 7,620 m (20,000 feet)

Range: 1.500 km

Maximum take-off weight: 21500 kg
ATR 72-200 - Euro Lot - video:
The ATR 42 is a passenger-transport aircraft, turboprop. It is a short-range high-wing, produced by the Italian-French company ATR flights (incl .: Aerei da Trasporto Regionale, French Avions de Transport .: Régional), used eg by EuroLOT to handle domestic and international flights. There are three versions - ATR 42-300, ATR 42-320 and ATR 42-500. Differ mainly in the powertrain. In Poland, the ATR uses besides Eurolot (group company LOT Polish Airlines), as White Eagle Aviation. The aircraft ATR-42 is a shorter version of the ATR-72.
Length: 22.67 m

Wingspan: 24.57 m

Height: 7.59 m

Cabin width: 2.57 m

Cabin height: 1.91 m

Range: (2 pilots and 46 passengers): 840 NM ~ 1.550 km

Speed: 300 ~ 556 km / h

Max. Take-off weight: 18.600 kg

Max. Permissible.

load capacity: 5.450 kg

Max. Fuel: 4.500 kg

Max. Number of passengers: 50
The Boeing 737 is one of the most popular in the world, wąskokadłubowy medium-range airliner. Boeing 737 manufactured in various versions since 1967 by Boeing, USA. It is most commonly ordered airliner of all time: so far a total of 6 160 ordered and delivered 5 009 copies. The Boeing 737 is so widespread that at any time more than 1 250 of these machines is in the air. On average, every five seconds somewhere in the world starts one machine type 737.
Seat configuration is a system of "2x3" (two rows of 3 seats in a row).
Model 737-800 on your board can take from 162 to 189 (33 rows of 3 seats on the left page and just the right example, Ryanair) passengers and 70 530 kg of cargo. Reaches the ceiling to 12 496 m, the speed to 840 km / h and a range without landing to 5 420 km.
Dimensions:
length - 39 m

wingspan - 34 m

weight - 41.410 kg

fuel - 21.320 kg

consumption - 2.526 kg / h

engines - CFM56-7

static string - 2 x 26,400 lbs

A climb speed - 290 km / h (155 - 160 kts.)

landing speed - 270 km / h (145 - 150 kts.)

speed - up to 840 km / h
Flight from Szczecin (Goleniów airport - London) is only 1 hour and 40 minutes.
Boeing 767 is a small wide-jet. Work on the aircraft began in 1978 in parallel with work on the Boeing 757. wąskokadłubowym Both aircraft use the same console and many systems (that is why these two similar models have been used in the attacks of September 11, 2001).
The first flight model B767 version 200 was held September 26, 1981, and entered the service of exactly one year later, in the colors of United Airlines. March 6, 1984 was the first flight of the Boeing B767-200 ER long-distance version (Extended Range).
The most common version is the version of the B767 model 300 differs from the previous greater length and hence capacity. The first flight of the machine took place on January 30, 1986, and to serve Boeing B767-300 came in September of the same year. Like the 200 version was also developed long-distance variation of ER, which began service in 1989, and has been widely recognized in the market as an airplane on a little crowded with long distances.
The final development of the B767 model is a version of 400 over which work began in 1996. This machine is actually an extension 300ER version that uses elements of a modern model of the Boeing 777, which transferred to the chassis, brakes and foremost modern control panel equipped with LCD displays. This version is offered only as a 400ER, but its range is less than the range version of the 200ER and 300ER. The first flight of the Boeing B767-400ER took place on October 9, 1999, and the machine has started scheduled flights in the colors of Delta Airlines in December 2001.
Since the beginning of production of 229 machines were built in version 200 / 200ER and 496 in version 300 / 300ER. The production version of the 400ER continues today.
It is worth noting that since 1989, the model is used by the B767-300ER on long-haul Airlines to New York, Chicago and Toronto. Lot has 5 machines 300ER version. These machines will be replaced in 2010. 7 Boeing 787 Dreamliner.
Wingspan: 47.6 - 51.9 m (depending on version)

Length: 48.5 - 61.4 m (depending on version)

Hull width of 5.03 m

Height: 15.85 m (version -300ER)

The support surface: 285.35 m² (version -300ER)

Weight: 80 130 - 103 870 kg (depending on version)

Starting Weight: 142 880 - 204 120 kg (depending on version)

Maximum speed: 0.86 Ma (913 km / h)

Cruising speed: 0.80 Ma (851 km / h)

Practical ceiling: 12 500 m (-300 version ER)

Range: 6 025 - 12 200 km (depending on version)

Run up: 1 710 - 2 896 m (depending on version)
Video of the Boeing 767 PLL Lot:
Mi-2 (NATO designation Hoplite) - medium, multi-purpose, with trójłopatowym main rotor helicopter designed by the Soviet design office Mikhail Mila, mass-produced only by PZL Świdnik. Mi-2 helicopter was the only Soviet design never produced in the USSR.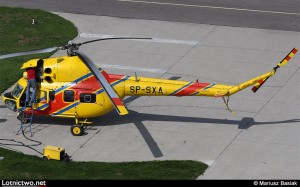 Multipurpose helicopter of duralumin, monocoque construction in system Sikorski. Trójpłatowy main rotor metal. Solid chassis, the front wheel. The hull is 600 liters of fuel. In addition, two external tanks are 476 l. The drive consists of two engines GTD-350 PZL 350 hp każdy.W later versions (produced in Poland as a GTD-350W) achieved an output of 420 hp each. The crew is one pilot or pilot and operator of such equipment. Chemical. Take on board up to 8 passengers or up to 700 kg load.
IL-76 is a Russian transport plane, flown in 1971 and produced since 1974 TAPO plants located in Tashkent, Uzbekistan. It is one of the most common transport aircraft. The aircraft was designed to move cargo weighing 40 tons at a distance of 5 000 km in less than 6 hours, and be able to take off on short runways and be able to work in adverse weather conditions.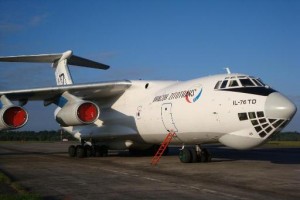 The design was inspired by the C-141 Starlifter. In 1990 he introduced upgraded versions of the MD and MT, but due to financial problems they produced a limited number [1]. In 1997, production was suspended. In 2004. Part of modernized aircraft, replacing the engines [2]. In 2005. China has ordered 34 aircraft version MD and 4 tankers Il-78 [3]. In January 2009, Pakistan received the first of four aircraft ordered the Il-78.
Video with a view of the cockpit of the airplane: