In the area of ​​the terminal point is Polish mail offering a full range of postal services (collection of letters, parcels, cash transactions).
Open from Monday to Friday
from 08:00 to 15:00.
Contact:
tel. 091 481 77 05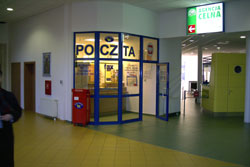 Leave a comment - opinions. Comments are moderated and may not appear immediately.