HEMS - the name of a Polish woman wearing Base Air Rescue (ang. Helicopter Emergency Medical Service, pol. Air ambulance). LPR currently has 17 permanent bases and 1 time. Since 2011, the number of databases is to increase - in connection with the tender awarded Oct. 10, 2007.
West has two HEMS bases - map
Base in Szczecin - Ireland West Knock Airport - a permanent base operating area HEMSDyrektor Branch Szczecin


installments.

med. Paul Niemiro




tel. 665 012 669




72-100 Goleniów Goleniów Airport

Seasonal base in Koszalin
Air Rescue - emergency medical service, performing in Polish health care system tasks in the field of air transport rescue and sanitary. Ambulance was founded in 2000 as an independent public healthcare institution reporting to the Minister of Health. Director of LPR is dr. Med. Robert Gałązkowski.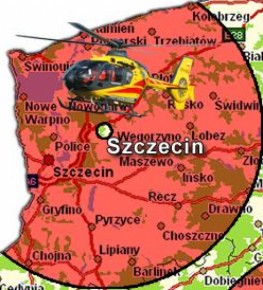 Equipment
By the spring of 2011. In use were also withdrawn helicopters Mi-2 plus. The company Eurocopter EC135 with his model, has been chosen as a supplier of machines and a 23 flight simulator. The first machine landed at the airport Warsaw-Babice September 10th 2009. The remaining 22 helicopters have been delivered by the end of 2010 (the last 2 machines transfer took place on 16 December 2010). Need to change the result, among others, helicopters in the absence of a certificate JAR-OPS 3 for previously used Mi-2plus and nieprzystawania this equipment to modern requirements and standards rescue. Due to the need for training and familiarize with the new hardware first new LRP helicopters entered service (HEMS) in the late spring and summer of 2010, the last submitted in the spring of 2011.
Helicopters PMAR have similar equipment and cast as a specialized intensive care ambulance. Often used as an aid to weight-bearing units or emergency cases requiring immediate transport the injured to a specialist center.
Website LPR: http://www.lpr.com.pl/